Play for Cuba instruments arrive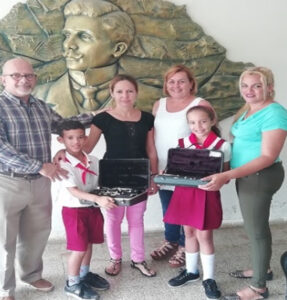 The Play for Cuba appeal was a mammoth effort by hundreds of Music Fund suppors, as well a Cub Solidarity Campaign groups, friends and affiliates and members of the National Education Union (NEU). Efforts that are well rewarded by images and letters recently received from students using the instruments in Cuba.
When every item finally arrived in Cuba to be counted and listed by our colleagues at the Cuban Centre for Arts Schools (CNEART), they confirmed that more than 8,000 musical instruments and items of arts equipment had been shipped to Cuba from Britain as part of the Play for Cuba appeal.
This amazing act of solidarity and friendship included a valuable baby grand piano, more than 3,000 pairs of ballet shoes from the Royal Ballet, at least 200 guitars, around 180 violins, violas and cellos, and hundreds of trumpets, trombones, other brass and wind instruments, and even a set of bagpipes!
Play for Cuba send-off
In April, a huge lorry carrying one of the two 40ft shipping containers sent to Cuba, filled to the brim with donated instruments and dressed with a giant Cuban flag, was waved off by hundreds of supporters outside Liverpool's ACC where the NEU conference was being held.
Gawain Little, Chair of the NEU International Committee, said: "today we're beating the blockade with this act of solidarity with Cuba".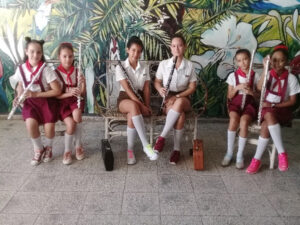 Donations benefit 37 schools in every province
It has taken a while, but now we can report that every donated item has been checked and logged, and all of them have now been distributed to 37 schools and colleges across the island.
Letters of thanks
Music Department, Centre for Arts Education, Santa Clara
We are writing to thank you for your donation of violins which will be used by our first-year music students. As Jose Martí once said: "Those who act generously will often meet grateful people."
Your donation is greatly valued and we will ensure that the violins will be used and looked after with great care.
Vice-Principal
The El Cucalambé School of Performing Arts, Las Tunas
We wish to express our most sincere thanks for the musical instruments that you have donated. They will greatly enhance our teaching of the arts and our young musicians of the future are very grateful for such a generous and important gesture by the CSC.
Thank you for your solidarity with our educational institution.
Nurys Francisca Catallops Borrego, Principal
The Pedro Raúl Sánchez García School of Performing Arts, Pinar del Río
I am writing to thank you for your generous donation to our centre which will greatly benefit our final-year students and who will use the trumpets you have sent as a complement to their course.
You can rest assured that these instruments are in safe hands and will be used to good advantage.
Thanking you again most sincerely for your support and generosity.
Griseida Carmona Mendivia, Principal
Raysa Orraca Perez, Vice-Principal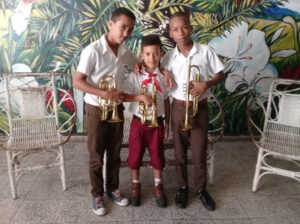 Pedro Raúl Sánchez García School of Performing Arts
My name is Carlos Rafael Perez Lopez. I am a student in my second year learning the trumpet at the Pedro Raúl Sánchez García School of Performing Arts. Thank you for your generous donation. Because of your help, I have a new instrument with which to continue my studies.
Thank you very much also for thinking of my school. Your donation has been very valuable for me and for my friend who is also learning to play the trumpet. It has encouraged us to progress and to achieve our dreams and ambitions.
Carlos Rafael Lopez Martinez, student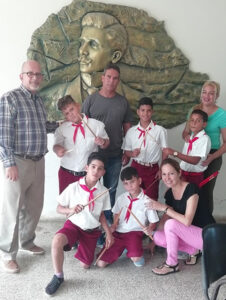 The Luis Casas Romero School of Performing Arts, Camagüey
We are writing to thank you for the kind donation of two clarinets and five sets of drum sticks for first-year clarinet and percussion students in our Music Department.
The students' names are Leinier Chavez Avila (percussion), Daniel Garcia Etcheverry (percussion), Eduard Nelson Porro (percussion), Leandro Osoria Rodriguez (percussion), Jadier Puig Leiva (percussion), Eduard Pelaez Suarez (clarinet), Lidiana Perez Vega (clarinet).
Richardo Tasis Guerra, Principal
Rolando Valentín Ortega Alvarez, General Director of CNEART, sent a letter of thanks and a detailed report on the donations, extracts of which are reprinted below:
We are grateful for this important donation coordinated by the Music Fund for Cuba, the Cuba Solidarity Campaign and the National Education Union.

This gesture is extremely valuable for Cuban art schools. It is a very big donation which reflects the solidarity and affection towards Cuba. It constitutes a great contribution to the sustainability of artistic education in Cuba at a time when the genocidal blockade imposed by the United States limits the purchase of the necessary supplies to meet the demands of quality music and arts teaching.

Donations have been distributed throughout the country to artistic education centres covering elementary to university level.

CENEART has 37 schools distributed throughout the country. Today, enrolment to specialist arts schools amounts to 8,392 students, 5,284 at elementary level and 3,108 at secondary level, and covers all Cuban provinces, and the special municipality Isla de la Juventud.

As you know, artistic education is very expensive, and our country makes huge efforts to maintain what for six decades has been implemented as a right… However the US blockade causes serious economic damage throughout Cuban society, from which arts education does not escape, and the international support of friends of Cuba from around the world is invaluable support to continue this social project.

The impact of this donation from the Play for Cuba appeal is very considerable because of its size and because we have managed to distribute nationally. With this donation it has been possible to deliver at least one instrument or an accessory to each art school, so that the solidarity of the Play for Cuba appeal can touch each of our institutions to benefit students and teachers, and so that everyone also knows about this movement that is generated from such a distant country. Today 4,990 music students, 1,474 dance students, 767 ballet students, 145 theatre students, 79 circus students, and 505 fine arts students, their teachers, and directors know about it.

Finally, we want to send through the Ministry of Culture the deepest gratitude to all those who have made possible the development of these projects and continue their efforts to collaborate in ensuring that Cuban artistic education remains as it is, a nation's pride.

A fraternal hug from Cuba,

Rolando Valentín Ortega Alvarez,
General Director of the National Center of Art Schools (CNEART)